Three Course Meal – only £15.00 per person
Appetisers, served to the table:
Specially seasoned olives 'V' GF'
With onions, tomatoes, lemon juice, cumin, cracked black pepper and extra virgin olive oil
Humous 'V' 'GF'
Our famous humous prepared freshly using our own recipe and ingredients, with a hint of garlic, lemon and a drizzle of extra virgin olive oil.
Mast-o-bademjan 'V' 'GF'
Aubergines baked in clay oven, cooled down and finely chopped, then rubbed in salt n pepper and garlic. Afterwards folded into yogurt and garnished with cumin.
Main course – self-service
Salad Oliveih 'GF'
Apparently comes from the very north of when it was Great Persia that included Armenia and Azerbaijan; hence the alternative name Russian Salad. I still call it by its real name – Salad Oliveih.
Cold chicken with apple, pineapple, carrots, white cabbage, boiled potatoes and eggs, all folded in our mayonnaise and a touch of cream. No spice but still yummy!
Mahi-e-Biryaan (fish)
One of my few signature dishes, in Persian means fried fish. River cobbler (a fresh water fish with a moist and meaty texture), seasoned and marinated in salt, Carum seeds, lemon juice, pepper – both black and red, in a light tempura like batter. Moist, luscious and plainly delicious! A must try one!
Tempura style spicy vegetable 'V'
Potato, onion, cauliflower, cumin, nigella seeds, salt and pepper in a light chickpea batter and deep fried for crispiness.
Fesenjan (chicken) 'GF'
Fesenjan, also known as khoresht-e fesenjan, is special occasion Persian food.Traditionally, it was made with duck or pheasant, in the north, in the province of Gilan (its swamps being the nesting place for the wild ducks, along the Caspian Sea). I have done this with chicken! Once you taste it, you will dream about it at night! A thick and naturally sweet and sour dish cooked with pomegranate juice, tomatoes, onions, cashews and flaked almonds. These nuts are another one of my personal touches to this great dish! Not only is this my favourite Persian dish, but it will soon become yours, too! Simply delicious!
Gosht-e-Akbari (lamb) 'GF'

Rich in spices, a lamb curry that apparently dates back to the late 1560′s, during the reign of Akbar the Great (one of the Moughal rulers). Moughals transferred the Persian literature and culture to India, thus forming the base for the Indo-Persian culture; hence the North Indian connection with my restaurant!
Lamb leg cooked until succulently tender and falls off the bone with swede, onions, garlic, ginger, cumin, brown cardamom, whole cloves, cinnamon sticks, bay leaves and salt to taste. An absolute delight for meat eaters!
Chickpeas and potato 'V' 'GF'

Fairly spicy, this very special vegetarian dish is simply delicious and unlike anything you might have tried before. Cooked with onions, garlic, ginger, whole grain mustard, fenugreek, cracked pepper and salt; it tastes scrumptious!
Ghormeh Sabzi 'V' 'GF'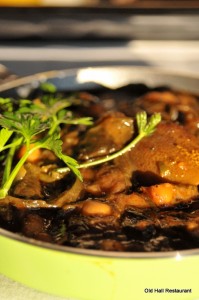 Also written and pronounced Qormeh Sabzi, this is the latest addition to my menu. It is a traditional and very popular Persian dish, served when family members return home after being away.
It is deliciously savoury and loaded with the flavours of several different green herbs. I have omitted the meat and have used Rose coco beans, spinach, onions, fenugreek, parsley and sun dried limes! A must try one!
Khoresht Gheimeh (Lentils) 'V' 'GF'

Lentils have finally shaken their image as a fattening "poor man's" legume and have even become somewhat glam! Khoresht is a Persian stew – usually with a meat and lentils. Again, I have left the meat out of this dish in order to make it extremely versatile but still very delectable, indeed.
Yellow split peas are cooked with onions, tomatoes, sun dried limes and fresh lime juice giving it the lip-smacking quality! Non vegetarians; Do not thrust aside this dish!
Murgh Kabab 'GF'
Murgh means chicken. I marinade chicken breasts in grated onions, oil, lime juice, yoghurt, salt and pepper with a few chili flakes as well as some cumin for 30 hours, before cooking on a long skewer in a clay oven; it quite literally melts in the mouth.
Onions, mushrooms, cabbage and tomatoes 'V' 'GF'
Thrown in and heated with a little bit of oil, salt and pepper, rather than fried, retaining their full crunch. Again plainly basic but flavoursome.
Biryani Style Rice 'V' 'GF'
Aromatic Basmati rice steamed with vegetables, spices, floral extracts and fruit such as grapes, sultanas, plums and even apples and pineapples.
Chickpea, potato and sultana Pullao 'V' 'GF'
Extra long, fluffy and light basmati rice cooked with cumin, cinnamon, cardamom, saffron, coriander, salt and freshly cracked black pepper
Afters – self-service
Sheer Birenj
Ground Basmati rice, plain whole milk, almonds, pistachios, sugar, cardamom, floral extracts and honey, served chilled.
Sheer Khurma
Another sweet dish imported by the Moughals. Persian word for Mongol is "Mughal," from which we get the English word, "mogul," meaning "tycoon". Traditionally, this dish is served in the Indian Subcontinent on the special occasion of Eid, twice a year. It is here for you enjoy whenever you would like to!
Made with vermicelli, plain whole milk, honey/sugar, sultanas, dates and floral extracts. Divine!
Halva
Semolina (purified wheat middlings of durum wheat), cooked in butter, oil, sugar, aniseeds, raisins and rose water.