First course
(Entire selection is served)
Homous (V) (GF) (LF)
Creamed chick peas, tahini, garlic, fresh lime juice, salt & extra virgin olive oil
Mast-o-Bademjan (V) (GF)
Roasted aubergines, garlic, cumin, aniseed, salt & cracked black pepper folded in yoghurt
Mixed Marinated Olives (V) (GF) (LF)
With onions, tomatoes, garlic, cracked black pepper, lemon juice, cumin, fennel and salt
Served with our famous light, crisp and airy Flat Bread (V) (LF)
 Second Course
(Entire selection is served)
Mahi Biryan (Fried fish) (LF)
Lemon Sole & River Cobbler (Asian fresh water fish) with onion & carom seeds in tempura style batter – deep fried
Murgh Kabab (boneless chicken breast) (GF) (LF)
Succulent cubes of chicken breast marinated in grated onion, saffron, salt, black pepper, extra virgin olive oil and lemon; cooked in clay oven on a skewer
Tempura Spicy n Herby Vegetables (V) (GF) (LF)
Potato, Onion, Courgette, Aubergine, Cauliflower and Okra with garlic, fresh coriander, cumin, cloves, aniseed, nigella seeds, salt and freshly cracked black pepper in a chickpea/gram flour batter
Third Course
(Any two of the following dishes)
Khoresht-e-Gheimeh (V) (GF) (LF)
Persian inclined split-pea stew! Yellow split peas, cooked with fried onions, tomatoes, sundried lime, turmeric and salt giving it the lip-smacking taste!
Ghormeh Sabzi (V) (GF) (LF)
Deliciously savoury and loaded with the flavours of green herbs: Rose coco beans, cannellini beans, spinach, onions, fenugreek, parsley & sun-dried limes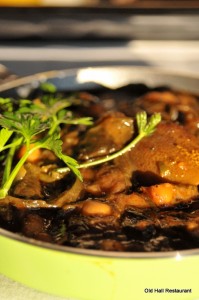 Spicy Cauliflower and potato (GF) (LF) (V when without Kabab)
Cooked with onions, tomatoes, garlic, fresh ginger, cloves, mustard seeds, turmeric, fresh coriander, green chillies, salt and freshly cracked black pepper making it absolutely toothsome! Topped up with optional Murgh Kabab.
Fesenjan (GF) (LF)
Although this traditional khoresht (Stew) originated in the province of Gilan, on the shores of the Caspian Sea, its swamps the nesting place of delicious wild ducks, I have recreated this one with turkey, especially for Christmas! 
Delightfully fruity with a sweet and sour taste, using only natural ingredients, recreated by me with a slant!
Boneless turkey breast meat cooked with onion, tomatoes, pomegranate juice, cashew nuts, almonds, olive oil and salt
Gosht-e-Akbari (GF) (LF)
Rich with whole spices, a lamb curry cooked with swede, onions, bay leaves, cloves, broken cinnamon sticks, brown cardamom pods, fresh garlic, ginger & salt
Shimla Chicken (Bone-in) Spicy & medium hot  (GF) (LF)
Moving away from the usual boneless British curry scene, I have gone for on-the-bone chicken for this special curry! It is a traditional, rustic, very spicy and delicious dish. Shimla is a northern Indian city, which also was the summer capital of British India. My curry is inspired from this city and the green pepper used in it, which is also called 'Shimla Mirch'. I created this recipe in spring 2013 and won the Shropshire Curry Chef of the Year with it too; prepared with an array of different fragrant spices including cumin, nigella seeds, cinnamon powder, nutmeg powder, aniseeds, 2-3 cloves, small cinnamon stick, few chilli flakes, green chilli, fresh coriander, salt & freshly cracked black pepper.
Served with both the following rice dishes:
Biryani style vegetable rice (V) (GF) (LF) –basmati rice, peas, sweet corn, runner beans, carrots, potatoes, cumin, green cardamom, cloves, fennel seeds and steamed with aqueous floral extracts
Kichri (V) (GF) (LF) – Also spelt khichdee, khichari, kitcheree – South Asian dish made from basmati rice and lentils, commonly considered as a comfort food; also the inspiration for Anglo-Indian dish kedgeree.
With turmeric, saffron, caramelised onions and a little cracked black pepper making it all the more delectable! Mild & subtle!
Fourth Course
(Any one of the following)
Halva (LF)
Semolina (purified wheat middling of durum wheat), cooked in butter, oil, sugar, aniseed, golden sultanas, almonds and rose water
Sheer Birenj (GF)
Basmati rice cooked with plain whole milk, sugar, honey, rose water pistachios and almonds (served with our spicy strawberry, plum & rose-petal preserve)
Sheer Khurma
Another sweet dish imported by the Moughals – Persian word for Mongol is "Mughal," from which we get the English word, "mogul," meaning "tycoon".
Traditionally, this dish is served in the Indian Subcontinent on the special occasion of Eid, twice a year.  It is here for you to enjoy on this Christmas!
Made with vermicelli, date infused plain whole milk, honey/sugar and floral extracts.  Divine!
Fruit salad
Fifth Course
Coffee and mint – Includes Complimentary top up
"Chai" – Selection of varied speciality Teas, with different flavours, including different herbs and spices
(V) Suitable for vegetarians; (LF) Lactose-free; (GF) Suitable for a gluten free diet
Our food is prepared in environment that contains nuts. If you have any special requirements, please ask.
Please note that although most names are still Persian, these are all my own recipes and not Iranian!
This scrumptious lunch for only £ 44.95 per person!
Please note that in order to secure your table, a £20 deposit per person will be requested at the time of reserving as we have limited the service to only 32 places for the sake of keeping our Christmas Lunch as intimate and cosy as possible.